Imperial Self Storage – Pitt Meadows Free Lock Promotion

Welcome to Imperial Self Storage – Pitt Meadows FREE lock offer.  Along with our compliment of sales and promotions, we are offering a FREE, complimentary lock upon the rental of a storage locker.
..... show more
If you reside in Pitt Meadows or the surrounding area, and are seeking Pitt Meadows self storage, please contact us at 604 464-5090 to receive a free lock when you rent a storage locker in our modern and secure facility.  This offer applies to new tenants, and can be used in conjunction with all of our storage unit promotions described below.
Conveniently situated for our Pitt Meadow neighbors, Imperial Self Storage is located on the corner of Mary Hill By-Pass and Kingsway Ave., in Port Coquitlam, providing quick access to Highway #1 or the City of Pitt Meadows.
Our secure self storage facility offers the ideal locker size for your required storage needs. Storage lockers range from 5'x5' to 11'x30' in size. We have large roll-up doors for both exterior and interior lockers, providing effortless access to your stored furnishings.
If you require heated storage, all of our storage units come with a climate controlled option. Heat is delivered by a stable and consistent in-slab radiant hot water heat, protecting your valued possessions. Additionally, we offer outside rv, boat, or car storage in a secure and monitored compound.
All of our lockers are individually alarmed and monitored by a computerized security monitoring system.  We have monitored video cameras located throughout the complex, keyword access security gates, and infra-red perimeter security beams surrounding the facility and the fenced rv storage compound. Flood lights are located throughout the complex, illuminating the rv storage compound 24 hours per day. Unlike most other storage facilities, our manager resides on the premises, providing that extra level of security and safety.
We cater to both business, and personal storage needs.   Whether you require storage lockers for business or your household, and you want the latest sales and promotions, please call our friendly and experienced staff at 604 464-5090 or e-mail us to reserve your storage locker now.
— Promotions —
Obtain 1 Month of Free Rent When You Pre-Pay 2 Months


This kind of promotion applies to all storage locker types, and new clients only.  This promotion is our most favored sale, offering you a 33% discount.  As opposed to our competitors' offers, this specific sale exclusively applies to all storage locker types, unheated or heated.

.....Click for more info

This sale is subject to storage locker availability, and does not apply to boat storage, car storage or rv storage.  This discount cannot be replaced for cash, it is only a discount on your lease.  A lease of three months is necessary.  Could be used in combination solely with the Refer a Friend coupon,  or the Free Lock discount.
10% Reduction on Storage

Our promotion for College students, Senior Citizens or member of the Canadian Armed Forces is definitely a promotion that has been very well liked by the regional community.  In recognition to their recent past plus their present compromise, we wish to give back to the local community by offering a 10 Percent discount on any storage unit.  This unique incentive can be applicable to the complete rental term, and is solely applicable to new tenants.

.....Click for more info

Promotion is subject to storage unit availability.  Candidate must provide two pieces of Federal / Provincial government i. d., like a valid driver's license, passport, or birth certificate upon the rental of the storage locker.  This specific discount doesn't have any monetary cash value, as it is a price reduction on the rent.   May only be used in combination with the Friend Referral Discount, and the 100 % free Lock promotion.
12th Month Free Storage Unit – Long Term Rental

Our long term discount promotion offers you one month of free storage once you pre-pay 11 months ahead of time.  This promotion applies for all self storage units, including outside boat storage, car storage or rv storage, and is our means of exhibiting gratitude for your loyalty and dedication.

.....Click for more info

Offer does not have any monetary cash value, and exclusively pertains to new tenants.  This discount on the rent cannot be applied if ever the tenant would terminate their lease and leave the premises while in the eleven month duration.  This exclusive offer can be used in conjunction with the Refer a Friend coupon, and our Free Lock offer.
Save $25 when You Refer a Friend


If you happen to make a referral to a friend about  our self storage services, you're going to receive $25 credit on your account, plus your friend obtains a $25 discount.  The credit will be applied to your next month's rent, while your friend will acquire a $25 price reduction in the storage rental cost of the first month's rent.  Can be utilized in conjunction with any other promotion.

.....Click for more info
FEATURES - Click For More
Features
Imperial Self Storage is a state-of-the-art storage facility complex, 100 Percent regionally owned and operated, providing climate-controlled and independently monitored self storage lockers.  We offer a high level of safety and security by incorporating video supervised surveillance, independently alarmed self storage lockers, security password gate entry, perimeter infra-red beam security system, parking lot security flood lights, perimeter full height fencing, plus an on-site facility manager living on the property.
Our company is ideally located at the junction of Mary Hill By-Pass and Kingsway Ave., in Port Coquitlam, permitting fast and convenient accessibility to Highway #1, City of Pitt Meadows, and the adjoining Tri City area.  Our self storage lockers come available with in slab radiant heat, supplying an optimum condition for the stowage of your treasured and moisture sensitive business or home furnishings.   Storage locker sizes are available from 25 to 330 square feet, unheated or heated, with overhead roll up doors.  Ceiling height of the ground floor lockers is a nominal 10' height.  We also offer a mailbox service, in addition to a full and complete compliment of storage and moving packaging and supplies.
The outside storage parking lot is designed for  RV storage, boat storage, or car storage.  The facility and parking compound is alarmed with perimeter infra red security beams, supervised with night and day cameras, contains flood lights, and is surrounded with security fencing.
To obtain your self storage Pitt Meadows promotional lock offer, please contact us at 604 464-5090 and ask for the "free internet lock offer" prior to renting your storage locker.  This offer is only offered to new tenants, and may be used along with our additional and various offers and sales as mentioned above.
The following and subsequent features and benefits are highlights of our self storage facility :
Security
Convenience
Storage

Outdoor RV storage, boat storage, or car storage parking with security flood lighting.
Electronic security system controlled main gate entrance and exits.
Security fencing monitored and alarmed with the help of perimeter infra red security beams.
24/7 surveillance cameras and computer, supervised security alarm system.
Pleasant personnel readily available for assistance and support during open business hours.
Individual locker door detectors.
Fire and security alarm system fully supervised and monitored.
Security video cameras throughout the storage facility.
Facility office manager living in the facility.

Easy accessibility to Hwy No. 1 and Mary Hill By-Pass, featuring hassle free access to your self storage Pitt Meadows area.
Highly experienced and polite office workers and facility management..
2 elevators per building featuring quick and easy entry.
Secure furnishing storage with your padlock, security password, and key.
Trouble-free ground level storage lockers accessibility.
Amenities for the handicapped are available inside the property.
Wide aisles throughout the facility provide you with simple and easy accessibility.
For added safety, every single storage unit contains fire suppression sprinklers.
Loading bays are sheltered from poor weather.

Extensive selection of storage locker sizes available.
Commercial stock and equipment for neighborhood businesses.
Home furnishings, business supply, paper documents and records.
Boat storage, car storage or rv storage
Domestic and personal products, clothing apparel, household furniture.
Mailboxes as well as distinctive addresses are readily available for business or individual use
Business records and data file storage.
Obtain a totally free padlock with the self storage Pitt Meadows "free lock internet sale".
FAQ
FAQ
(For Answer, Please Click on the Question)
1. What is your business office telephone and email contact ?
Phone : (604) 464-5090
Fax       : (604) 464-5598
U-Haul Rental : (604) 464-5090
Please keep in mind that Imperial Self Storage is independently owned and operated.
You can also email us – Click to email.
2. Hours of operation ?
Office Hours :
8:00 am – 8:00 pm Mon. to Fri.
9:00 am – 8:00 pm Sat. and Sun.
Closed during statutory holidays.
Entrance Access  Hours:
6:30am-7:50pm 7 days-per-week.
U-Haul Rental Hours:
9:00 am – 7:00 pm 7 days-per-week.
Closed during statutory holidays.
Any tenant that has lost or misplaced their admittance code or just their storage locker number will not be able to gain access to the complex, until business hours.  Permission to access lockers and outside storage is from 6:00 am to 7:50 pm, seven days a week.  Clients will have to leave the premises by 8:00 pm.

3. What is the facility location ?
Our address is
1180 Kingsway Ave.,
Port Coquitlam,
BC. V3C 6N7
Follow this link to see the map.
Our direct business location at the junction of Kingsway Avenue in the City of Port Coquitlam, & Mary Hill By-Pass offers fast and simple access to Highway No. 1, and the Pitt Meadows area.
4. What security does the storage facility provides ?
We have cutting edge security measures coupled with automated monitoring systems in order to keep your furnishings and belongings secure.  Our monitored cameras are found throughout the interior and exterior of the complex.  Also, the RV storage, boat storage, or car storage compound features multiple overhead color surveillance cameras, featuring panoramic views of the parking lot.  In addition, the facility and parking lot are surrounded by infra-red security,  and full height fencing in addition to flood lights illuminating the parkade during the nighttime.
All storage lockers are individually monitored with a surveillance electronic system.  Entry to the storage complex is by password access security gate.  As a customary and established feature, our company has our facility supervisor residing at the storage facility providing that extra security and peace of mind.
5. What exactly are the storage locker door sizes ?
Inside units come with doors which are 3′ wide x 6′-6″ high.  There are traditionally hinged doors in addition to roll-up doors.
Outside storage units feature roll-up doors which are 8′ x 8′, except for 11′-0″ x 30′-0″ units.
Our 11′-0″ x 30′-0″ units feature doorways which are 9′-0″ w x 8′-0″ h.
6. How high is the ceiling height ?
Ceiling headroom clearance of main ground floor storage units is 10'
Ceiling headroom clearance of Second floor storage units is 8'

7. Is it necessary to enter the building to get into the units ?
External units with roll-up doors are accessible using a car.  You just enter the security password at the gateway and enter the storage facility from 6:00 am to 8:00pm, 7 days per week including all holidays.
The indoor units in the two storey storage building are accessed by doors on the main ground level.  Upstairs storage lockers are accessed by two elevators, each one located inside a protected loading dock.
8. Are pets allowed on the facility ?
Because of safety and liability legal issues, pets are not allowed to run free on the facility grounds.
9. What type of substances are not allowed to be stored ?
Any explosive, hazardous, or flammable items are certainly not allowed to be stored.  Components and items such as propane bottles, paint supplies, diesel, gasoline, and cleansing agents are not permitted to be stored due to safety issues in addition to federal guidelines.  For anyone who is unclear what cannot be legally stored, please be sure to get in touch with our office staff at 604-464-5090.
10. May foodstuff be stored within my locker ?
Because of safety and personal health legal issues, the storing of foodstuff on the property is not permitted.
11. Can you offer heated units ?
All storage units are available in unheated or heated choices.  Heat is made available by the hot water heated concrete slab situated within the complex, supplying an efficient and constant heat distribution to the units.
12. Do I require my own padlock ?
Yes, you require your own private padlock.  Each storage locker is independently alarmed, however it is designed for the use of a standard padlock.  For your comfort and ease, we retail various security locks, together with storage and moving supplies.  Simply click here to get locks and storage supplies.
13. How will Imperial Self Storage receive payments ?
We accept Visa, Interac, cash and Mastercard.  Cheques can be used following the rental of the first month.
14. Is a security or damage retainer applicable ?
No, a damage deposit is not applicable or required.
15. Will Imperial Self Storage charge past due payment service charges ?
Fees will be charged if the client's storage rental payment is delinquent.  Also, access to your storage unit is going to be refused until the account is in good standing.
16. Is Imperial Self Storage connected with U Haul ?
Imperial Self Storage is not managed or owned by U Haul.  We are 100 % independently owned.  Any sort of sales or discounts proposed by U Haul are not redeemable by us.  To obtain or redeem any U Haul promotional offers, please be sure to contact U Haul.
17. How often can I access my locker ?
Access to your storage locker is during 6:00 am to 8:00 pm, 7 days a week, including statutory holidays.
Any client who is renting a storage locker and who has forgotten their access password code will not be able to gain access to the storage facility until the regular office hours.
18. May I purchase boxes in addition to packing supplies ?
19. Do the units provide you with electrical outlets? Can I plug in power appliances ?
The units do not possess any kind of provisions to allow for electric powered tools or home appliances.  Each and every locker offers ceiling lights controlled by a timer.
20. If I vacate before my rental term completes will I obtain a refund ?
Renters who will be moving out from their mini storage locker will have to notify us 7 days before vacating the locker.  Lease holders are accountable for all outstanding payments until the moving date.  Please make sure to notify our office and staff 7 days before vacating the property.
21. Upon ending my rental term, how do I check-out of the facility ?
Customers wishing to vacate their mini storage unit must inform us one week in advance prior to moving out. Customers are responsible for the rent payment until they check out. Please advise the office seven days in advance before you plan on vacating the storage unit.
22. Will Imperial Self Storage provide storage pick up & delivery service ?
It is the tenants' responsibility to employ a moving company or move by themselves in to the facility.  We offer a U Haul truck rental service.  Be sure to call us today at 604 464-5090 to schedule a U Haul truck, or click the link for more information.   Please click here for U-Haul truck rental.
23. Does Imperial Self Storage offer insurance policies?
Imperial Self Storage will not insure your stored belongings or furnishings.   Please make sure to contact your personal insurance company to acquire a storage plan for your stored furnishings.
MAP
Map
Our facility is at the corner of Kingsway Ave. and Mary Hill By-pass in the City of Port Coquitlam.

 Address :
Imperial Self Storage
1180 Kingsway Avenue
Port Coquitlam, BC, Canada
V3C 6N7
Ph : (604) 464-5090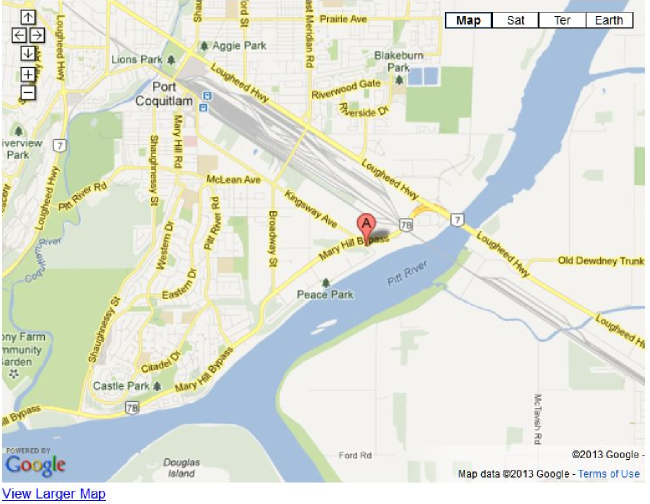 With the new Cape Horn interchange complete, we are conveniently located providing quick and easy access to Highway #1, Port Coquitlam, Pitt Meadows, Coquitlam, Burnaby, Port Moody, New Westminster, Maple Ridge, and Vancouver.
Do You Need Storage?
Using the Services of a  Storage Facility while Selling a Property or Home

A personal storage facility becomes an important and convenient service when selling your home.  During a move, it is much more easier and convenient when you have a storage locker to store your furnishings and personal belongings.   One needs to realize that during a move, it rarely occurs that the furniture and personal items can be directly relocated from your present house and into the new house.  Additionally, a lot of people store their furnishings prior to moving within a self storage facility in order to clear the house of clutter and present a clean staged home in order to facilitate and expedite the sale.
It is a known fact that a well presented and de-cluttered house will sell much faster, and the educated seller will use this knowledge to their advantage.  This is exactly why, storage companies like Imperial  Storage is crucial and advantageous during a person's move in to a brand new household; considering that we are able to protect your personal home furnishings within a protected, separately supervised unit, or your fishing-boat or recreational vehicle may be kept in the fenced, and video camera supervised outdoor storage compound, all monitored by the office management and our computerized security system.
Storage During Building a New Home
Unfortunately when building a new home, construction usually takes longer than initially anticipated. Many people who have built homes must move in with their friends or in-laws, living in basement suites or small accommodations, as they eagerly anticipate the completion of their new house. During this time however, the services of a local mini storage facility become essential and invaluable. Storing your prized furnishings in a secure and climate controlled mini storage facility, allows for the protection and safe keeping of your possessions and assists in making the construction process of the hew home as seamless as possible.
Personal Storage during the course of Building a Brand new House
Building a new home is a monumental task, that usually takes more time than originally anticipated.  Lots of people that have constructed their home need to move in with their in-laws or friends, coping with basements or limited lodgings, while they prepare for the finishing and completion of their brand-new family home.  During the building phase, the services offered by a storage facility are very convenient and beneficial to the home owner.  Keeping your valuable household furniture in a protected and climate controlled storage environment, provides for the security and safe keeping of your property and aids in making the building process of the brand-new house as smooth as possible.
Business Inventory and Document Storage
Small business is about the fastest growing market sectors utilizing storage available at storage establishments.  Resulting from higher real estate property cost, a small company owner could very well be required to live in a condo or town house having minimal  space for storage.  This is exactly why,  storage establishments offer a significant price reduction alternative to the private business owner, because it presents competitively priced storage space established ideally in a large city, enabling the productive growth of the company and proprietor.
Life Altering Circumstances
As we are all familiar, life now and then has a way of throwing us a curve ball.  During this time the situation must be dealt with in a realistic and sensible manner.  Circumstances such as bankruptcy, home foreclosures, divorce, or loss of life in the family are all regrettable and life altering events.
During these regrettable instances, a person quite often must obtain locker storage, or motorboat and motorhome parking storage until the difficult circumstances subside.   Self storage companies are a perfect alternative, mainly because they supply the storage demands for clients during the challenging and  emotional times.  A skillfully supervised  storage company will have qualified office employees which will provide a compassionate and thoughtful service with a discrete, helpful, and prompt fashion.
Self Storage for  Life styles and Personal Pastimes
Self Storage facilities may be used to better a clients chosen lifestyle.  They usually are remarkably essential given that they provide a location of retreat for anyone residing in a congested condo by offering storage for a clients' treasured property and pastimes.   Whether it's partaking in ones pastime or favored hobbies, like building radio controlled car models, toy trains, stamps, or baseball playing cards collection,  a modern and state of art  storage facility provides heated storage units for the safe protection of their consumers'  cherished valuables.