—  Imperial Self Storage – Port Coquitlam  —
For Sale & Promotions Call :

 

604 464 5090
At Imperial Self Storage we strive to make our customers pleased and delighted by providing friendly, knowledgeable staff, a secure storage environment, and easy access within the City of Port Coquitlam.
Whether you live in Coquitlam, Maple Ridge, Burnaby, Port Coquitlam, Pitt Meadows, or Port Moody, we are conveniently located at the intersection of Kingsway Ave. and Mary Hill By-Pass, providing quick access to and from Highway #1.
Our Port Coquitlam storage facility has a large variety of storage units ranging from 25 to 330 sq. ft. Heated units feature "in slab" radiant hot water heat for efficient and consistent heat distribution, enabling the protection of stored goods by providing controlled and consistent heat to the storage lockers.  The Port Coquitlam storage facility also has a two storey building with dual elevators, and covered loading docks, providing a dry and comfortable environment while you store your goods.
In addition to password coded gate access, all units are individually alarmed and monitored. Drive aisles and interior hallways are monitored with video cameras, while the perimeter fence has infrared beam security, enclosing the outside RV storage in a secure and monitored compound. Our manager resides on site, providing additional security and a peace of mind for the storage of your valued possessions. We also rent U-Haul Trucks, to provide you with a seamless and easy storage experience.
We welcome you to our neighborhood! Our friendly staff is always ready to be of service for all your storage needs. Call us, e-mail us, or visit us at :
1180 Kingsway Ave.
Port Coquitlam,BC
V3C 6N7
 To find out more about our latest promotions, please call (604) 464-5090.
—  Promotions  —
Courtes

y

Truck




At Imperial Self Storage we are offering the free use of our 16' F450 courtesy moving truck or E250 van upon move-ins. This offer is applicable to new tenants only, who require the use of the truck or van to move their furnishings into our Port Coquitlam storage facility.

You will require to book the courtesy truck or van in advance.  Please click here for more information.
10% Discount

We are offering a 10% discount over the entire storage term to any university student, Senior Citizen (must be over the age of 65 years), or a member of the Canadian Armed Forces, on any of our interior storage lockers, outside RV storage, or car storage.

.....more

Offer is available to new customers only, and is subject to storage locker availability. Must provide 2 pieces of government issued i.d., such as passport, birth certificate, or driver's license. Cannot be used in combination with any other storage promotion offers except the Refer a Friend discount. This offer is a discount on the rent, and does not have any cash value.  Applicable to new tenants only.
12th Month Free When you Prepay 11 Months

When you require storage for 12 months or longer, you can prepay 11 months and receive the 12th month for free. This is our way of thanking you for your loyalty and commitment. This offer is applicable to all units, whether it is an interior storage locker, or outside RV storage, boat storage, or car storage.

.....more

In the event the customer vacates the unit during the 11 month period, no discount shall apply. Offer has no cash value. This offer cannot be combined with any other offer other than the Refer a Friend promotion.  Applicable to new tenants only.
Refer a Friend and Save $25

$25 Saving each to yourself and to your friend when you make a referral. If you are an existing tenant of Imperial Self Storage Port Coquitlam, and you make a referral to a friend about our self storage facility, you will save $25 off your next month's rent, while your friend will also receive a $25 discount off their first month's rent. Can be used in combination with other promotions.


.....more

This offer is subject to the conditions as described on the referral certificate. Only one offer per new customer is accepted. This offer is a discount on the rent, and does not have any cash value. Click here for the Refer a Friend Coupon.
Main Storage Building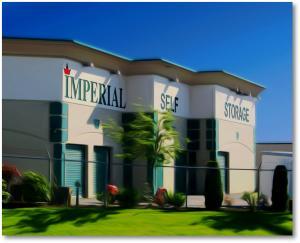 Features
Features
Imperial Self Storage Port Coquitlam is a 100% regionally owned and operated storage facility offering gate secured, state of the art security and monitored storage.  Each of the storage lockers are independently alarmed using a monitored security system. Interior drive aisles are directly viewed with video cameras, and the perimeter fence has infrared beam security. The storage facility is conveniently located on the Mary Hill By Pass in Port Coquitlam, providing quick and easy access to communities such as Maple Ridge, Pitt Meadows, Coquitlam, Burnaby, Port Moody, New Westminster, Vancouver and Surrey.
We offer a wide selection of storage unit sizes, along with heated storage units utilizing "in slab" radiant hot water heat for better heat supply to the storage units.  As well, we offer out-of-doors RV Storage parking spaces within a fenced and electronically protected compound.  Make sure you get in touch with us for unit availability by phoning (604) 464-5090 or by e-mail.
In addition to our cheerful office staff and competitive prices, all of the following are features utilized in our state of art facility :
Security
Convenience
Storage

24 hour security 7 days per week with supervised security system.
Surveillance cameras.
Computerized security systems.
Computer monitored entry.
On-site office staff to assist you during office/gate hours.
Outside security flood lighting.
Fully supervised fire alarm system.
Independent door alarms.
Alarmed perimeter secure fencing.
Resident caretaker on site.

Store and lock your goods risk-free with your very own padlock and key.
Handicapped facilities on site.
Wide drive aisles for trouble free accessibility.
Convenient ground level drive up access.
Polite office members, skilled storage consultants.
Each of the storage units contain sprinklers.
Twin elevators for simple and fast access.
Weather protected loading bays.
Easy accessibility to Mary Hill By-Pass and Hgwy. #1.

House hold items or furniture.
Seasonal patio furniture, apparel, and sports equipment.
Postal mail boxes along with specific address available.
Recreation and hobby equipment.
Boats, Cars, Motorcycles, & RV storage.
The proper size to suit your business needs.
Data file storage.
Business supplies or stock and inventory.
FAQ
FAQ
(Click on Question For Answer )
1. How can I contact your office ?
Our office phone number is : (604) 464-5090
Or use our fax number        : (604) 464-5598
Our U-Haul Desk phone is   : (604) 464-5090
Please keep in mind that Imperial Self Storage is independently owned and operated.
You can also email us.
2. What are your hours of operation ?
Office Hours :
8:00 am – 8:00 pm Monday to Friday.
9:00 am – 8:00 pm Saturday and Sunday.
Office is not open on statutory holidays.
Gate And Locker Access Hours:
6:30am-7:50pm 7 days a week.
U-Haul Hours:
9:00 am – 7:00 pm 7 days a week.
Closed on statutory holidays.
Tenants do not have 24 hour entry to their storage lockers.  Tenants must exit the storage facility in advance of 8:00 pm.  Tenants who have misplaced their locker and access code are not going to be able to access or obtain entry into the facility until standard office hours.

3. Where is your storage facility located ?
Our location is at the corner of Kingsway Ave. and Mary Hill By-pass in Port Coquitlam.  Our address is 1180 Kingsway Ave., Port Coquitlam, BC. V3C 6N7
You can view a map here.
We are located directly on Mary Hill By-Pass providing direct access to communities such as Maple Ridge, Pitt Meadows, Coquitlam, Port Moody, Burnaby, New Westminster, and Vancouver.
4. What is your security ?
We have the most modern security system available to maintain your possessions safe.  We also have camera monitored surveillance inside and outside the storage facility, access code gate admittance, individually computer monitored storage units, and on site managers.  Our exterior car storage, boat storage, and RV storage is secured by perimeter infrared beam security, flood lights, fencing, and live-in management who reside at the storage facility.
5. What are the dimensions of the doors to the storage lockers ?
All internal access units have doors that are 3′ x 6′-6″ high.
All exterior access units have doors that are 8′ x 8′, except for 11'x30′ units.
All 11?x30? units have doors that are 9? x 8?.
6. What is the ceiling height in the storage lockers ?
All ground floor storage lockers are 10? high.
All second floor storage lockers are 8? high.
7. Must you enter a building to access your storage locker ?
For outside ground level access units, you just drive up alongside your unit and load your belongings.
Free usage of carts is offered for your convenience.
2nd floor heated lockers are also accessible by elevator from a sheltered loading bay.  We offer two elevators and two sheltered loading bays inside our 2 storey building.  All of the tenant's goods need to fit into the rented storage unit.  The tenant can not leave any items outside of the storage unit for any period of time.
8. Are pets permitted on the property ?
For the safety and security of all clients and office staff we DO NOT permit pets on the premises.  In case you have a pet, please do not allow the pet to run free and keep them limited to the inside of your motor vehicle.
9. Do you permit dangerous materials on the property ?
All flammable, explosive, and corrosive products are prohibited.  In accordance to federal law, dangerous, or harmful chemical substances or materials ( fuel, paint supplies, cleaners, etc.) are not permitted to be stored inside or outside the storage facility.
10. Can I store foodstuff in my storage unit ?
Due to health issues, the storing of any foods is strictly forbidden.
11. Are the storage lockers heated ?
All unit sizes, are readily available in both heated and unheated storage units.  Heat is delivered by "in-slab" radiant hot water  for effective and steady heat distribution, protecting your stored possessions by supplying controlled and consistent heat to the storage lockers.
12. How do I lock my storage unit ?
13. What are your methods of payment ?
We accept Visa, MasterCard, Interac and cash.  Cheques are accepted after the first rental month.
14. Is a damage or security down payment mandatory ?
No, a damage or security down payment is not required.
15. Does your company charge any late service fees ?
Yes, a fee will be billed if the rent is delinquent.  Direct access will also be refused until payment is received.
16. Is Imperial Self Storage associated or affiliated with U-Haul ?
No, Imperial Self Storage is a storage facility separately owned and operated.  U-Haul incentives are unable to be redeemed by us.  Please contact U-Haul to redeem any promotional incentives.
17. How often can I go into my unit ?
You can access your storage unit as often as you like during the hours of gate and locker access operation.
Gate And Locker Access Hours:
6:30am-7:50pm 7 days a week
Tenants do not have 24 hour access to their units. Tenants must leave the facility prior to 8:00pm.
Tenants who have forgotten their locker and access code will not be able to get into the compound until regular office hours.
18. Where can I get boxes and paper ?
We sell all of your packing and moving supplies, including boxes and packing paper. Click here for packing supplies.
19. Is there power to each storage unit? Can I plug in my freezer and/or refrigerator ?
There are no provisions in the storage lockers to plug in electrical appliances. Each unit has individual light on a timer.
20. If my circumstances change and I move out early do I get a refund ?
All of our mini storage lockers are charged for, and paid for, one month in advance. We have a one month minimum tenancy. After that, all unused rent is pro-rated and refunded back to the tenant.
21. What are your check-out procedures ?
Customers wishing to vacate their mini storage unit must inform us one week in advance prior to moving out.  Customers are responsible for the rent payment until they check out.  Please advise the office seven days in advance before you plan on vacating the storage unit.
22. Does Imperial Self Storage pick up and deliver ?
No we do not pick up or deliver. It would be the individual customer's responsibility to hire a mover or move yourself into a storage unit. U-Haul truck rentals are available for those who wish to move their belongings themselves. Please click here for U-Haul truck rental.
23. Are my belongings insured while stored? Do you sell insurance ?
We do not insure your belongings while they are stored. We suggest that you advise your insurance company when you store your belongings. Please contact your insurance company to obtain a policy for your stored goods.
Map
Map
Our self storage facility is located at the corner of Kingsway Ave. and Mary Hill By-pass in Port Coquitlam.
Storage facility address :
Imperial Self Storage
1180 Kingsway Avenue
Port Coquitlam, BC, Canada
V3C 6N7
Ph : (604) 464-5090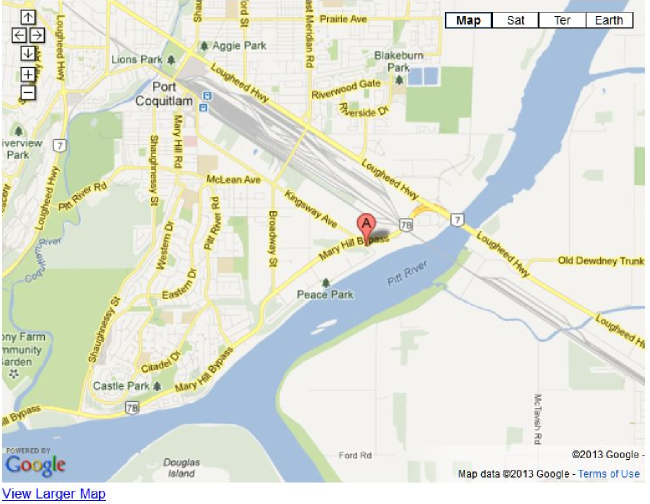 We are conveniently located close to Highway #1 providing quick and easy access to cities and municipalities such as Coquitlam, Port Moody, Pitt Meadows, Maple Ridge, Burnaby, New Westminster, and City of Vancouver.
Do You Need Storage?
Self Storage near Coquitlam – while Selling a Home
When the time comes to sell your home, self storage becomes an invaluable service.  Moving from one house to another is much easier when you have a place to store your furnishings.   During the  move, it seldom  works out that your furnishings can be directly moved from the old home and into the new.  Furthermore, many clients use mini storage services prior to selling their homes, in order to de-clutter their house and provide a presentable staging of their home.  In the real estate business it is no secret that a de-cluttered home is much more presentable and will sell faster than a home whose owners have not considered this issue.  For this reason self storage such as Imperial Self Storage is essential and beneficial during your transition into a new home, since we can store your furnishings within a secure, individually monitored storage locker, or your fishing boat or RV can be stored in our fenced, and camera monitored outside storage compound, all supervised and monitored by our on-site manager.
Storage During Building a New Home
Unfortunately when building a new home, construction usually takes longer than initially anticipated.  Many people who have built homes must move in with their friends or in-laws, living in basement suites or small accommodations, as they  eagerly anticipate the completion of their new house.  During this time however,  the services of a local mini storage facility become essential and invaluable.  Storing your prized furnishings in a secure and climate controlled mini storage facility, allows for the protection and safe keeping of your possessions and assists in making the construction process of the hew home as seamless as possible.
Small Business Storage in Port Coquitlam

Small business is one of the fastest growing sectors using storage offered by mini storage facilities.  Due to increased real estate prices, a small business operator may be forced to reside in an apartment or townhouse with limited available storage space.  For this reason, self storage and mini storage facilities present a huge opportunity for the small business owner, as it provides affordable storage located conveniently in a busy metropolis, allowing for the prosperous growth of the business and owner.
Unfortunate Circumstances
Life as we all know not only has a way of providing joyous and happy times, but it also provides unfortunate circumstances that must be dealt with in a pragmatic manner.  Situations such as divorce, death in the family, bankruptcy, or home foreclosures, are all serious and life changing occurrences.  During these unfortunate times, one usually must seek locker storage, or boat and RV storage until the trying times subside.   Mini storage facilities are an ideal solution, as they provide the storage needs for customers during tough emotional times.  A professionally managed mini storage facility will have trained staff that will provide a sympathetic and caring service in a discrete, efficient, and timely manner.
Mini Storage for Lifestyles and Personal Hobbies
Mini Storage facilities can be used to improve a customers way of life.  They can be extremely significant since they provide an area of refuge for people living in a crowded apartment by providing storage for a customers' valued possessions and hobbies.   Whether it is indulging in ones hobby or favourite pastimes, such as building r/c models, trains, stamp collection, or hockey card collections,  a modern self storage facility can provide heated or climate controlled lockers for the secure protection of their customers'  treasured belongings.