Free Use of Courtesy Truck or Van Upon Move-Ins
In the event you are moving yourself, and are planning to rent a storage unit at Imperial Self Storage, why not take advantage of our courtesy truck or van during a move in.
The use of our courtesy moving truck or van is free. You do not have to pay insurance, or mileage, it is included. All we ask is that you pay for the gas that you use, by topping off the tank when returning the vehicle.
There are two trucks we are offering. The larger truck is a 16′ F450 cube truck.  This truck includes a roll out ramp for easy loading and unloading. For smaller moves, we are also offering our E350 van. This size of vehicle is very popular with students, or drivers who may feel uncomfortable driving the larger truck.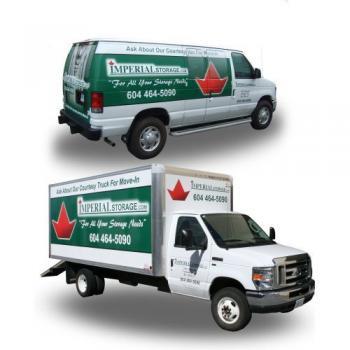 To use the truck or van, you must :
Have a full and valid drivers license. (Sorry, but drivers with New or Learner status do not qualify)
Be 25 years of age or older.
Make a damage deposit payment of $200. Damage deposit will be returned upon the safe and undamaged return of the truck or van.
Once finished with using the truck or van, top off the tank (gasoline only) prior to dropping off the truck at Imperial Self Storage.
Free use of the truck or van can only be used for a move in, and upon the rental of a storage unit. This promotion applies to new tenants only. Existing tenants do not qualify for this promotion.
If you require the use of a moving truck or van other than moving into a newly rented storage locker, we also rent these vehicles.  Please contact the office for further details.
Certain conditions such as distance and duration of use apply.
Cannot be combined with other promotions.
To book the moving truck or van, please contact the office at 604 464-5090 or click here to contact us via e-mail.